Tony Matelli's Sleepwalker at Wellesley College: special focus (2014)
This is a special focus on the media coverage of Tony Matelli's Sleepwalker and the international media frenzy resulting in over 5000+ articles, many in top media, and around 800 TV broadcasts in 96+ countries.
Tony Matelli. Sleepwalker (2014). Installed at Wellesley College (2014). Overall: 70 in. x 48 in. x 26 in. Courtesy of Tony Matelli and Marlborough Chelsea. Photo: J. Kennard.



In this focus, the extensive media coverage compilation is a case study that shows an example of the current state of art in the age of mass/Internet media. In particular, the coverage shows how far and wide an art story can travel when journalistically packaged in a certain way and when pushed through various news distribution channels. Diverse photo-based and Internet-based video distribution— and social media— are key elements. The interviews capture the thoughts and feelings of the artist and media relations consultant to the project shortly after the full-on media frenzy. Questions and debate remain to what extent the media coverage is of marketing and financial value, and how artists and art organizations can leverage such coverage to their benefit.
As always, those outside a project may interpret motivations, actions and results in a way that doesn't reflect the reality of a project internally. It seems that the "perfect storm" resulting in massive media coverage could easily not have happened. But it did, and in a truly spectacular way.
> Articles in our special Sleepwalker at Wellesley College focus: A-F; Project G
A. Media push and pull: Tony Matelli's Sleepwalker and the 'creepy statue' controversy (partnered with Sculpture magazine) (by R. J. Preece, 25 June 2014)
In my research, I specialize in art and artists interfacing with mass media. Artists like Hirst, Emin, Quinn, Koons, Tunick, and Gregor Schneider offer recognizable stories with mass media appeal, but Tony Matelli? I recently published an interview with Matelli (Sculpture, January/February 2014), but had never thought of him as a provocative "media artist."
And yet this past February, after less than a week, the "creepy statue controversy" surrounding Tony Matelli's Sleepwalker as installed at Wellesley College near Boston had generated about 800 TV and radio broadcasts and more than 1267 articles, according to Nina Berger, media relations consultant for Wellesley's Davis Museum. In parallel, at artdesigncafe.com, we compiled over 5000 samples, mainly via the Internet.
Read more
This sensationalized story raises several questions. What was the media result? What was its value? Was the coverage a strategic, PR-led media push, or a media pull, a compelling, journalism-led story?
According to what became the standard phrasing, Tony Matelli's Sleepwalker, a "remarkably lifelike sculpture sleepwalking in nothing but his underpants" in an "eyes closed, zombie-like trance" was placed outdoors "at a busy area of campus" at the "prestigious women's school." [The sculpture was installed as part of Matelli's solo show at the college's Davis Museum.] Soon after the work's installation, a group of students launched a "petition" on <change.org> demanding its removal, as "the sculpture is a source of apprehension, fear, and triggering thoughts regarding sexual assault." As of 5 February 2014, the petition had collected 300 signatures.
The [sensational quotes above], which framed the story, come from an Associated Press (AP) wire release bearing the headline "Mass. College Man-in-Undies Sculpture Causes Stir." This article was one of at least four AP wires that steamrolled through American media. AP offers its stories to about 1,400 U.S. daily newspaper members and thousands of TV/radio broadcast members, among other news outlets, both for hardcopy and Web usage. (In this case, we recorded more than 750 placements.) Interestingly, the Sleepwalker story was quickly bumped up from "odd news" to "big story," and information about the exhibition was announced nationally. Images of the sculpture in the snow— perfect for news photo galleries and "photo of the day" features on Web sites— were also offered by AP, Getty, and Reuters, further driving the coverage.
CBS - This Morning presenter Gayle King reports nationally about the Sleepwalker sculpture controversy.
Other news distributors followed suit with headlines like "Statue of near-naked man sparks 'brief' controversy" (Internet Broadcasting, more than 45 placements), "Realistic statue of man in underwear freaks out women's college" (networked, Rick Couri-authored text, more than 40 placements), and "Naked Sleepwalker statue stirring controversy at college campus" (NBC News, more than 50 placements). Nationwide, more than 320 local TV affiliates of the four major TV networks published as many as four articles about Sleepwalker on their Web sites. News outlets in all 50 states carried the story. At the national level, almost every news outlet ran at least one report. In addition to the U.S., the story was reported in more than 90 other countries. As one can imagine, a social media frenzy accompanied the [mass-media performative mix].
WCVB, channel 5, ABC, in Boston reports on "Wellesley College 'sleepwalker' becoming a national sensation". This video was embedded on many TV station websites across the USA.
Colorful headlines and opinion pieces of all stripes abounded, including "All-Female College Terrified by Creepy Underwear Man Statue" (gawker.com). A Time magazine writer slammed the protesters with "Man up, Wellesley: You're a generation of sheltered children." In a Wall Street Journal op-ed piece, Wellesley College President H. Kim Bottomly slammed back, "None of them have any need to man up, and I hope and trust, for women's sake, that none of them will ever shut up." Andrea Peyser in the New York Post gave the following advice: "Girls, relax."
Later news stories reported that the sculpture now had its own Twitter and Facebook accounts. Tony Matelli spoke out defending Sleepwalker, and Bottomly announced that "after weighing many perspectives," the sculpture would stay, and "we must do everything we can to support those students who find themselves deeply affected by it" (Boston.com). This decision produced more news coverage, but by then the volume had peaked, and coverage began to trickle out.
The story was reported through diverse news categories, from strange news to arts and entertainment, style, celebrity, big story, trending, and national/world. Equally diverse were the kinds of publications running it, including outlets for arts news, political outlets, PerezHilton.com, Time magazine, and university news outlets— the student-run Wellesley News featured a particularly lively discussion. On U.S. and Canadian radio, Sleepwalker was consumed across formats, including news/talk, soul, country, pop, and rock.
Any press is not necessarily good press. Assessing "tonality" is a key element, and content analysis is necessary. Les Roka, a journalism researcher who examined key sample texts, says, "Overall, Wellesley and Matelli hit a grand slam. On the surface, yes, some phrasing is not ideal. But that's the price one pays to interest the media and public at this level. In the end, people will remember an interesting sculpture that prompted a public, open debate. It also helps to keep Wellesley College on the radar as an interesting school."
A TV report on Sleepwalker in Mexico.
The story, of course, raised the general visibility of the Davis Museum, Wellesley College, and Tony Matelli. Roka went on to evaluate the impact in six U.S. media markets: San Francisco, Los Angeles, Utah, Ohio, New York City, and Boston. Based on the <artdesigncafe.com> compilation (and assuming text placement on the Web equates to TV/radio broadcast and hardcopy publication), he conservatively estimates at least 39.2 million media impressions, meaning eyeballs in front of a text or broadcast. "If the museum were more of a standard national attraction, this could potentially mean 140,000 additional visits per year," Roka explains. "If spending were $20 each, that's $2.8 million from visitors, members, or tourists." As of February 18, the Davis Museum reported a fivefold increase in attendance (first weekend, 270 per day), but admission is free.
Nina Berger also reports an increase in Web traffic on the museum's site, which peaked at 10 times more visits than usual (6,300 page views[/day]) before settling in at three times more than average. We located numerous outgoing links in on-line articles on top-powered news sites. Many go to Tony Matelli's Web site and to that of Wellesley College. Internet marketers dream of these kinds of results because they competitively lift a site's Google search rankings.
Both Tony Matelli and Nina Berger say they were completely surprised by the full-on media reaction, as well as by the social media onslaught. "I don't think anyone saw it coming," says Berger. "I know I didn't. We did think Sleepwalker was newsworthy— and had invited a photographer from the Boston Globe to shoot the installation— but we had no idea how it would take off. The Globe ran a photo of Matelli's Josh sculpture the next day [February 4], not Sleepwalker."
The media frenzy didn't begin until after word of the student petition started to spread— and Sleepwalker photographed vulnerably in the snow helped. Boston TV and newspapers were the first networked outlets to break the story, which quickly led to text, photos, and broadcast footage for national and international distribution. However, it was a local blog, The Swellesley Report, that first saw Sleepwalker's media appeal on February 3, [and later announced] the student petition and the sculpture's social media accounts.
Reflecting on the media frenzy two months later, Tony Matelli said, "I think it's bizarre. The attention it received was so out of left field, so irrelevant to the work. So, I'm mystified by it really. It was fascinating just to watch it happen. It's like watching yourself in a movie, like I was viewing all this as a third person." Has he been able to capitalize on the media attention? "Not yet," he says. "The art world moves slowly, it seems, especially when something like this happens."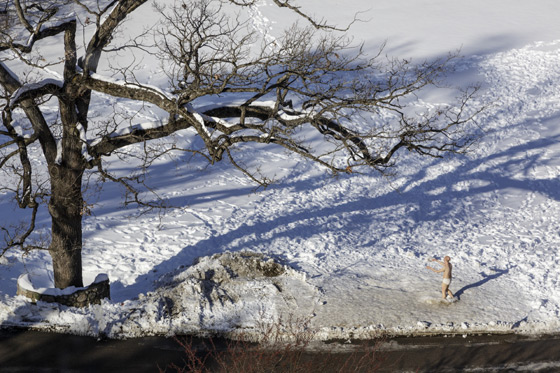 This article was co-partnered with Sculpture magazine, July/August 2014. The article was sent for hard-copy publication at the end of April 2014.
B: Case study - media compilation
See the eye-popping, international media coverage that spilled out in waves across several days:
> "Over 5000 articles in 96+ countries report on Tony Matelli's Sleepwalker at Wellesley College: An artdesigncafe media coverage compilation"
C. Tony Matelli interview: Sleepwalker and massive media coverage
D. 800 TV broadcasts, over 5000 articles, in over 96 countries: Interview of Nina Berger (media relations consultant to the Davis Museum at Wellesley College)
E. "Wellesley and Matelli hit a grand slam": A media coverage evaluation (by Les Roka, 25 June 2014)
I was asked to offer as assessment of the media coverage of Tony Matelli's Sleepwalker at Wellesley College, and I was supplied an earlier version of the developing data in the artdesigncafe compilation (ca. 16 March 2014). I was also asked to offer a readily comprehensible assessment, with wording accessible to an arts audience unfamiliar with the ins and outs of journalism and media coverage evaluation.
Read more
Please note, this is a tough challenge. I'm as knee-deep in my discourse as many arts people are in theirs. My core academic / practitioner background includes journalism, public relations and media history/criticism. Adding to this, almost everything mentioned below is up for academic debate, as vociferous as anything I can imagine in the arts. So, for the occasional PR/journalism academic that stumbles on this article, please do see the endnotes page.
For everyone else, below is my abbreviated, best guesstimate.
The scope
I chose to look closely at the following media markets: Ohio, where I grew up and earned my PhD; Utah, where I've lived and worked for 14 years; New York, because it's the American media capital and one would expect the widest discussion across media types; Boston, because the media event was located and fueled there. Lastly, I chose Los Angeles and San Francisco because I wanted to sort of compare these two West Coast cities with their East Coast counterparts.
I also looked at the US national compilation, as this is a media coverage layer on top of all of these markets.
Tonality: negative/positive on a scale
Cutting to the core, overall, Wellesley and Matelli hit a grand slam. On the superficial surface, yes, some phrasing is not ideal. But that's the price one pays to interest the media and public at this level. In the end, people will remember an interesting sculpture that prompted a public, open debate. It also helps to keep the Wellesley College name on the radar as an interesting school.
When one looks closely at the compilation, sees the headlines, and goes into the articles, the controversy inspired all sorts of narratives: it's creepy, it's bizarre, it's unconventional, it's fantastic. Someone even created a Twitter account for Sleepwalker. It raises issues of appropriateness. It may signify a kind of sub-cultural, generational divide, and maybe an academic divide. And so forth.
The media coverage value
First, please note that addressing this question is a can of worms that has for years resulted in many articles and books about numbers and methodology. It's like answering the question, "Who is the leading artist of our time? And which artist will be in the future, looking back at our time?"
Having said this, one needs to put something out there to give an indication. It also can be a starting point; in PR circles, hopefully it will attract attention for a healthy discussion. So, here is my best guesstimate, as simply the matter of "raising visibility" for the parties mentioned in the media coverage is not very helpful at all really.
Overall, I conservatively estimate there were at least 39.2 million media impressions in the six Designated Marketing Areas (DMAs), meaning eyeballs in front of the text or broadcast. (This is for the "first wave" of coverage that occurred in February 2014.) Here, for argument's sake, I'm assuming that web publication on a TV, newspaper and magazine website is translating into hard copy publication and TV and radio broadcast. This is also based on the practical limitations of the data set. A more thorough and expensive compilation would specify Internet publication and audience— as well as hard copy publication and audience, and TV/radio broadcast and audience. I've taken the former and applied the publicly available data of the latter. Again, for argument's sake.
If the museum were more of a standard national attraction, such as a national history museum or aquarium, 39.2 million media impressions could mean potentially 140,000 additional visits/year. If spending were $20 each, that's USD$2.8 million from visitors, members or tourists.
Again, you can imagine the debate that can occur in PR circles about this guesstimate. Imagine a group of burlesque show PRs in Las Vegas. The feathers would definitely be flying.
Now, let's look at the individual markets.
Boston Designated Marketing Area (DMA)
Guesstimate: at least 4.0 million media impressions. In Boston, the 7th largest US media market, there was quite a bit of variety in the story angles— which then went national via distribution channels. I found it intriguing they went into more detail about the controversy and how the college was responding. The coverage was quite balanced with follow-up stories, as opposed to other DMAs that opted for simply the initial oddity or weirdness angle. There was discussion about the artistic value and merit, and there was a response by the artist in the media coverage.
New York City DMA
Guesstimate: at least 12.4 million media impressions. In the New York City DMA, there also was a full discussion, as one would expect, given the established interest base via AP (Associated Press), and the elements of a controversy involving a public sculpture, an elite women's college, the student response, and New York being the US media capital. (FYI: it's important to look closely at the "US national level" of the compilation; many of these "national" media outlets are New York-based, as well as Washington, Los Angeles, and San Francisco.)
Ohio DMAs and Utah DMA
Guesstimate: Ohio - at least 5.3 million media impressions; Utah - at least 1.3 million media impressions. These DMAs appear to be highly reliant upon what AP correspondents offered in their coverage, based on the compilation. In addition, in Ohio, there appears to be more usage of the terms "creepy" and "odd" and "realistic". So it seems to have been treated, overall, more as a novelty, versus the various coverage tones in New York and Boston.
Does this say something about audience sizes in Ohio? Or, those who are interested in certain kinds of coverage defer to national outlets—or those in other places? A worthwhile discussion point.
I particularly like looking at the Salt Lake City DMA. Make it here and your message is tightly projected across the entire state, even spilling over the border. Curiously, the Deseret News ran the headline "'Sleepwalker' braves the cold at Massachusetts college". This newspaper is based in Salt Lake City and is owned by the Church of Jesus Christ of Latter-day Saints, and the readership extends through this "channel" internationally (with an impressive top 5700 website traffic-ranking according to Alexa, comparable to the Miami Herald). While the story mentions the sculpture appearing nearly nude, the headline was as vanilla as it could possibly be with this story. This compares to others like "man-in-undies", "tighty-whities", and "nearly naked man".
Los Angeles DMA and San Francisco DMA
Guesstimate: Los Angeles - at least 9.5 million media impressions; San Francisco - at least 6.7 million media impressions. What's interesting here is that, overall, at first the coverage appears very AP-driven and in some ways, comparable to Ohio and Utah (minus the Deseret News). However, look closely at the US national layer. Here, many pop/celebrity culture websites are based, or centered, in Los Angeles. Then you have major Internet companies headquartered in the San Francisco area that distribute news nationally and internationally in multiple countries. So these two didn't seem to take on the story to the level of New York and Boston, but this highlights that the national layer must be looked at when examining any of the DMAs.
Lastly, the university-affiliated news coverage across the DMAs was interesting to examine. One example was at the University of San Francisco. The Foghorn (student publication) ran a piece that was as detailed, thoughtful and balanced as any I saw in Boston or New York.
Conclusion
So here you have my best guesstimate. Many artists sometimes make great sacrifices for developing their art. So do some media relations evaluators. Now I'll go back to my core disciplines, ready to dodge any academic or practitioner arrows that fly my way at any moment…
Click to see the endnotes for this article.
F. Can artists and arts organisations leverage a media frenzy to their benefit? (A conversation between the former and current directors of Manchester's Castlefield Gallery)

Project G. Sleepwalker media coverage: The remixes
Click the following link to go to the overview page of Sleepwalker media coverage: The remixes.
Additional information
> Tony Matelli at Davis Museum, Wellesley College (2014) (press release)
> Tony Matelli interview: Human echo (This interview, published in the January / February 2014 issue of Sculpture magazine, was sold at the Davis Museum counter throughout the duration of the exhibition)