Sensation at the Royal Academy of Arts, London (1997): press releases, varied publications and mentions
Here's the press release of the landmark show that got so many people talking. Plus a little bit more...
OVERVIEW OF SECTIONS
A. Personal context: Sensation, to London from Southeast Asia (1997)
B. Historical context: Shocking Sensation discovered about the town art lady in America: Warhol Marilyn diptych (1962) collaborator, Emily Hall Tremaine: diamonds, disclosure, danger— "sensational allegations" and publicity (1935-41)
C. Sensation: Press releases from the Royal Academy of Arts, London (1997)
D. Sensation: Exhibitions, varied publications and mentions in the media landscape
A. Personal context: Sensation, to London from Southeast Asia (1997)
"I remember that time as if it were yesterday, when I had just moved to the exotic island [Great Britain] after living in Southeast Asia. Upon my arrival to London, some were still grieving over their lost princess [Diana], while others were all excited about some art show held at a place called the Royal Academy. I wandered into the press preview, started with the shark, but became quickly mesmerized by "the tent." On the floor, peering inside and giggling, a radio journalist walked over and asked to interview me..."
Read more
Prior to witnessing Sensation in London, I was in Bangkok, during the crash of the baht and threat of military coup in the steamy summer heat, and in Hongkong, witnessing the Handover to China with concern.
B. The town art lady, Warhol Marilyn diptych collaborator, Emily Hall Tremaine, teaches a thing or two about Sensation: diamonds, disclosure, danger— "sensational allegations" and publicity (1935-41)
Emily & Sensation | Hirst's £50m diamond skull | Emin's My Bed
Emily & Three Flags | A Boy for Meg | Marilyn Diptych | Victory Boogie Woogie
Warhol to Hirst? No. Emily, then Andy, to Hirst and Emin.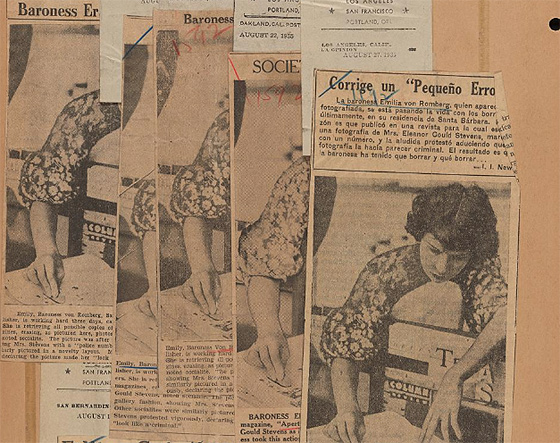 Cropped view of page in pre-Warhol Emily Hall Tremaine's 1930s scrapbook showing multiple media coverage on her and her work at Aperitif magazine. In August 1935, Emily (von Romberg, previously) was threatened with a defamation claim; in response she staged—or agreed to— a photo-op, in which she scratched out the complaintant's name and photo of remaining magazine copies. This was then reported by multiple media outlets. (Note the white slips; she appears to have hired a clipping agency to gather her press coverage.) Buried under thick historical dust, Emily's 1930s social-celebrity, and later notoriety, may have not been curatorially known, or communicated and put forth, previously.
Read more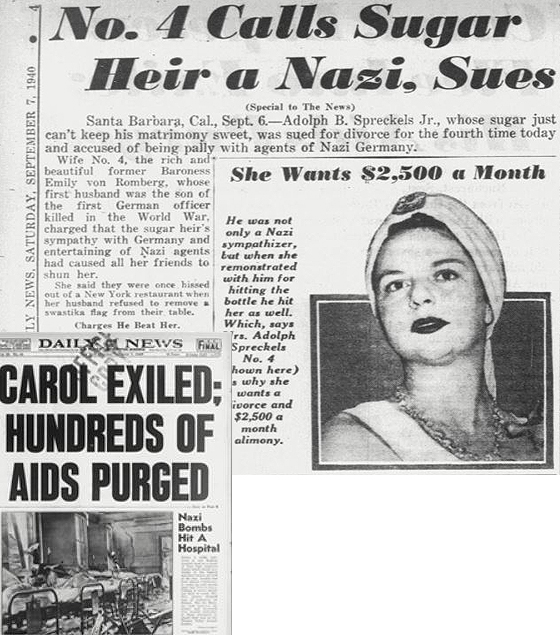 Above, news clipping in New York Daily News on 7 September 1940, with re-used photo of Emily wearing diamonds estimated in value today of USD$14-220 million at the Beaux Arts Ball in New York. Emily was reported in the press nationwide about this just nine months earlier. Here, Emily dives into shocking disclosure and as one newspaper put it, "sensational allegations", alleging extreme spousal violence and pro-Nazism regarding her second husband after one year of marriage. Bottom left, front page of newspaper reporting on chaos in Romania and a Nazi bomb hitting a hospital in London. While difficult and rather disturbing, this photo recalls— in reverse— Emin's disclosure, Damien's diamonds and possibly Jake & Dinos Chapman's Hitler re-works in one go. Emily Hall von Romberg-Spreckels (later Tremaine) lived through this, she survived it. Then she turned to Art.
> To learn more, and see more samples of shocking media coverage, see Meet the other lady behind the diptych; The depiction of the Marilyn Diptych as autobiographical for Emily Hall Tremaine (1908-87). [Scroll down to the article concerning a (to date) unknown context of the voted #3 most influential work of Modern art. Emily advised Warhol put the two panels together— she lived it, she survived it— showing celebrity rise and destruction.] (R. J. Preece, artdesigncafe.com; Contributing Editor, Sculpture magazine, 16 September 2021.)
Robert Preece is author of the forthcoming book Surviving California: Emily Hall Tremaine's publicity-filled journey through 1930s Nazi danger, and her shocking, violent fall (as bombs rained on Britain and the U.S. entered World War II).
C.1. Press release: Sensation: Young British artists from The Saatchi Collection
Royal Academy of Arts
London, England
18 September - 28 December 1997 (Closed 25 December)


PRESS RELEASE
12.9.97 | Sponsored by Christie's. In association with TimeOut
The achievements of a generation of young British artists whose original and challenging work has received international acclaim are the focus of this major exhibition. Entitled Sensation, the show presents work by artists selected from The Saatchi Collection. As well as highlighting the vitality and inventiveness of current British art, the exhibition also demonstrates the commitment that Charles Saatchi has shown in collecting the work of these young artists.
Read more
This recent explosion of creativity and excitement in the visual arts has not been seen since the emergence of Pop Art in the early 1960s. This current phenomenon was originally identified in the late 1980s through exhibitions in the east end of London, most notably Freeze and Modern Medicine. These exhibitions were organised by a group of young artists who, having just graduated from art school, sought venues that lay outside the traditional institutions of the art world in order to show their work. Since then the energy and ingenuity that many artists have shown in promoting their own work has been one of the factors of their success.
The individuality of their work makes it impossible to brand this generation of young artists as a movement, even though many of the artists know and support each other. By showing their work together, which ranges in media from paintings and sculpture to video, photography and ready-made objects, it is possible to appreciate the interaction and shared concerns of their work which can, in turn, be exuberantly humorous or brutally forthright.
The artists represented in Sensation are: Darren Almond, Richard Billingham, Glenn Brown, Simon Callery, Jake & Dinos Chapman, Adam Chodzko, Mat Collishaw, Keith Coventry, Peter Davies, Tracey Emin, Paul Finnegan, Mark Francis, Alex Hartley, Marcus Harvey, Mona Hatoum, Damien Hirst, Gary Hume, Michael Landy, Abigail Lane, Langlands & Bell, Sarah Lucas, Martin Maloney, Jason Martin, Alain Miller, Ron Mueck, Chris Ofili, Jonathan Parsons, Richard Patterson, Simon Patterson, Hadrian Pigott, Marc Quinn, Fiona Rae, James Rielly, Jenny Saville, Yinka Shonibare, Jane Simpson, Sam Taylor-Wood, Gavin Turk, Mark Wallinger, Gillian Wearing, Rachel Whiteread and Cerith Wyn Evans.
CATALOGUE
The catalogue accompanying the exhibition examines the rise of these young British artists and places their work in a historical and critical context. Norman Rosenthal, Exhibitions Secretary at the Royal Academy, writes an introduction to the exhibition, Richard Shone charts the story over the past 10 years from the Freeze exhibition to Rachel Whiteread's "House" and Lisa Jardine looks at the role of the collector in the twentieth century. Martin Maloney focuses on the works in the exhibition and Brooks Adams examines the work of the young British artists from an international perspective. The catalogue has over 180 illustrations including photographs of the artists by Johnnie Shand Kydd. Published by Thames & Hudson, the catalogue will be available both in softback (£21.95 and £19.95 for Friends) from the Royal Academy during the exhibition and in hardback from shops nationwide.
[...]
NOTES TO EDITORS: The Royal Academy offers the following advice to people before visiting the exhibition.
There will be works of art on display in the Sensation exhibition which some people may find distasteful. Parents should exercise their judgement in bringing their children to the exhibition. One gallery will not be open to those under the age of 18.
[...]
C.2. Press release: Sensation press conference
Royal Academy of Arts, London
16 September 1997


PRESS RELEASE
The following comments were made by Sir Philip Dowson, President of the Royal Academy and David Gordon, Secretary of the Royal Academy at a press briefing for Sensation today.
Read more
Sir Philip Dowson PRA
I would like to make two points:

First, the decision to put this exhibition on followed the rigorous democratic procedures of the Academy. It was approved by the Exhibitions Committee on 8 January last. This is composed entirely of RAs and chaired by Tom Phillips. It was then approved by Council. Following the controversy over the Hindley picture, Council met again and reaffirmed the decision to proceed. A General Assembly of Academicians voted in favour of Council's decision. There was intense debate, and I respect the views of those of my fellow Academicians who dissented.

Second, the Academy puts on the broadest possible range of art exhibitions. Our next exhibition—Art Treasures of England—will be of a completely different sort of collecting—by regional galleries and museums.

It is our obligation to show art of all kinds.

I believe this to be a serious and extremely important exhibition.
David Gordon commented,
One of the controversial works in the exhibition is the picture of Myra Hindley by Marcus Harvey. As you have seen, it has been included in the exhibition.

This decision, as Sir Philip has said, was taken after long and careful discussions.

The picture, based on the well-known police photo and using the cast of a child's hand, makes us think afresh about Myra Hindley's crimes and her punishment, and our reactions.

The majority view inside the Academy was that millions and millions of images of Myra Hindley have been reproduced in newspapers and magazines. Books have been written about the murders. Television programmes have been made. Hindley's image is in the public domain; part of our consciousness; an awful part of our recent social history; a legitimate subject for journalism—and for art.

There are a few other works in the exhibition which are strong, graphic and will be offensive to some. We will be posting notices at the entrance to the exhibition to alert visitors.

One gallery containing the piece Zygotic acceleration by Jake and Dinos Chapman is closed to the under 18s. Parental guidance should be exercised for the whole show. Not all art is suitable for everyone.

The Academy believes that the public, having seen for itself, should judge for itself.

The Academy also believes in and welcomes discussion and debate.

Once people have seen the exhibition for themselves, they will be invited to fill out a questionnaire giving their views. These are the questions:
1. Having seen this exhibition for yourself do you think the
Royal Academy of Arts was right to stage it?

2. Are there works exhibited which you think should not have
been shown? If so which, and for what reasons?

3. Should the Royal Academy present art even if it shocks
and causes offence?

In six weeks or so, we will have a public debate on the exhibition to discuss the issues raised by it and the results of the survey will be made public then.
C.3. Press release: Extracts from the introductory essay to the catalogue by Norman Rosenthal
Royal Academy of Arts | PRESS RELEASE
(undated, c. September 1997
WHY SENSATION?
Extracts from the introductory essay to the catalogue by Norman Rosenthal.
What is so new about the art in Sensation? The answer lies in this generation of artists' totally new and radical attitude to realism, or rather to reality and real life itself.
Read more
The great art movements of the century were made up from artists producing work that the public neither wanted nor expected but were forced to swallow because they raised issues of modernity that could not be avoided. Who is not made to feel uncomfortable by the unknown, whether in art or anything else? It is natural and easy to fall in love with what is preconceived as being right and proper, good or beautiful but the chief task of new art is to disturb that sense of comfort.
A visitor to this exhibition with an open mind and well developed antennae for life will perceive an uncommonly clear mirror of contemporary problems and obsessions from the perspective of youth. Presented with both seriousness and humour (often black) and in an extraordinary diversity of material and approaches, both traditional and unexpected, these works serve as memorable metaphors of many aspects of our times. Some of these aspects are shocking and can be all too easily swept under the metaphorical carpet in our endless search for that illusive thing called beauty.
The art gallery is a public place where we cannot easily keep our thoughts and blushed embarrassment to ourselves, unlike the darkness of the theatre or cinema or the privacy of reading. Visual artists have, for this very reason, a peculiar ability and, therefore, responsibility to draw attention to that elusive thing we call reality, which may, when fused with fantasy and personal obsession, bring forth something which may be recognised as art.
In this exhibition we can witness and engage with metaphors of sensations, positive and negative, that remind us of the big issues of our time, often of all time: love and sex or fashion and food, waste and plenty, boredom and excitement, violence and child abuse, disease, medicine and death, shelter and exposure, science and metamorphosis, simplicity and complexity.
The visitor will also see work which is meant to unsettle us as we look together with our chance neighbour in the gallery at things normally seen in private. It has always been the job of the artist to conquer territory that has hitherto been taboo.
Artists must continue the conquest of new territory and new taboos. The strange, the mysterious, the freakish, the fantasy of science, the abnormality of the normal and the normality of the abnormal: all of these are celebrated through the creativity of young British artists.
As far as international reputation is concerned, it appears that this latest generation of artists is having considerably more impact than its predecessors and perhaps one of the questions this exhibition will answer is whether art in Britain, never quite central to the European cultural experience nor quite radical in terms of the great American art experiment, can now hold its own as second to none. Can London become the unchallenged centre for the practice and presentation of contemporary art? If London could claim that position it would surely be a first and grounds for celebration.
Art must first be conceived, second executed and third presented to the public. With Sensation, the Royal Academy continues its role as a platform for the art of all ages, ancient and modern. We aim to enable the public to see and judge for themselves an exhibition of the work of some of the leading contemporary artists in the world today.
C.4. Merchandise accompanying Sensation: Young British Artists from the Saatchi Collection

Royal Academy of Arts
London, England
18 September - 28 December 1997


16 September 1997 | Sponsored by Christie's in association with Time Out
The merchandise accompanying the Royal Academy of Arts Sensation Exhibition is an eclectic mix that reflects the variety of works exhibited. Many of the product designs have been inspired by the works in the exhibition and several have been developed in conjunction with the artists.
Read more
These product groups will account for a significant proportion of sales:
> Selection of postcards featuring the major works and photographs of some of the artists by Johnnie Shand Kydd at £0.50
> Greeting Cards by young British designers created exclusively for the exhibition, from £2.95
> Over 50 book titles relevant to the exhibition
Products specially developed in association with the artists for the exhibition include:
Limited edition (of 50) Chapman Brothers signed posters, titled "All Of Our Ideas For The Next 20 Years", measuring 4' x 5' and printed on 170gsm paper, priced at £39.95 each. Also available are unsigned posters, on 150gsm paper at £19.95 each.
Chapman Brothers signed, limited edition (of 1,000) telephone cards, featuring a detail from the work Ubermensch.
Mona Hatoum pinbadge, designed in relation to her work, Deep Throat. The image is taken from the last video sequence of this work and retails for £0.95.
T-shirts featuring the work of artists Sam Taylor-Wood, Damien Hirst, Gary Hume, Marcus Harvey, Michael Landy and Jenny Saville at £14.95 or £19.95.
Also especially produced for this exhibition are fashion T-Shirts by British Designers Antoni and Alison, priced at £35.00 each. The T-shirts feature the phrase "Non-Conformist - Dressing Like An Avant Garde Artist".
Other design led items which will be sold in the Royal Academy to accompany the exhibition include:
> Inflatable PVC armchair at £85.00
> PVC room divider/shower curtain with 126 transparent storage pockets to store CD's, photos or household items at £89.95 each
> PVC toothbrush holder with space for four toothbrushes and a pocket above each one for a photo of the owner at £16.00 each. A transparent toothbrush containing plastic swimming fish will also be available at £4.95
> Gary Hume's "Pop up Room" at £5.95 was created by the British Council for a touring exhibition. It is made from pre-cut card and can be assembled to form a 3-sided room with floor and ceiling
> Mutant Magnets to adorn a fridge or filing cabinet featuring aspects of the body available in male or female body parts at £19.95 each
> Resin photo frame with real fish of plastic pills [sic?] sealed inside at £18.95 each
The Royal Academy of Arts Shop is situated on the first floor of the Royal Academy - Tel. 0171 300 5757. The Royal Academy is a registered charity and all proceeds from the exhibition help fund the many varied activities held at the Royal Academy.
D.1. Sensation exhibitions
This section is in development
Material status:
= online
= link to more info
= completely offline
This section is in development.
1990s

1997 - Royal Academy of Arts, London

(18 September - 28 December 1997). Sensation: Young British artists from The Saatchi Collection at Royal Academy of Arts, London.

See publications section below for related documentation.

1998-99 - Hamburger Bahnhof, Berlin

(30 September 1998 - 17 January 1999). Sensation: Young British artists from the Saatchi Collection at Hamburger Bahnhof, Berlin, Germany.

See publications section below for related documentation.

1999-2000 - Brooklyn Museum of Art, New York

(2 October 1999 - 9 January 2000). Sensation: Young British Artists from the Saatchi Collection at Brooklyn Museum of Art, New York.

See publications section below for related documentation.
D.2. Sensation in varied publications and related documentation
This compilation is updated regularly.
1990s

1997 - three press releases; one attachment - Sensation at Royal Academy of Arts, London

(September 1997). Three press releases for Sensation: (1) SENSATION: Young British artists from The Saatchi Collection (12 September 1997); (2) Press Conference - 16 September 1997; (3) WHY SENSATION? Extracts from the introductory essay to the catalogue by Norman Rosenthal (undated; c. September 1997). Additional attachment (in press kit): Merchandise accompanying Sensation: Young British artists from The Saatchi Collection. Royal Academy of Arts, London. (Updated 18 September 2021. Q00395).

See sections C.1 - C. 4 above on this webpage.

1997 - exhibition checklist / list of exhibited artworks - Sensation at Royal Academy of Arts, London

(September 1997). Exhibition checklist for Sensation at Royal Academy of Arts, London. [In original press kit.] (Viewed 18 September 2021).

Presumably contact the Royal Academy of Arts archive, London. (Note that artdesigncafe has an original copy.)

1997 - brochure - Sensation at Royal Academy of Arts, London

(September 1997). Four panel brochure for Sensation at Royal Academy of Arts, London. [In original press kit.] (Viewed 18 September 2021).

"... SENSATION will celebrate the achievements of a generation of Young British artists whose original and challenging work has received international acclaim... " (Excerpt from above.)




Presumably contact the Royal Academy of Arts archive, London. (Note that artdesigncafe has an original copy.)

1997 - gallery guide - Sensation at Royal Academy of Arts, London

(September 1997). Gallery guide for Sensation at Royal Academy of Arts, London. [Eight-panel brochure; in original press kit.] (Viewed 18 September 2021).

"... Charles Saatchi began collecting art in the early 1970s and has since built up one of the largest collections of contemporary art in the world... " (Excerpt from above.)




Presumably contact the Royal Academy of Arts archive, London. (Note that artdesigncafe has an original copy.)

1997 - feature article

(30 December 1997). Sensational hit for Royal Academy. BBC News. (Viewed 18 September 2021. Q00398).

"'Sensation'... is being hailed as a giant success... " (Excerpt from above.)




c. 1998 - exhibition webpage (funder) - Sensation at Hamburger Bahnhof, Berlin

(c. 1998). Funder exhibition webpage for Sensation: Young British artists from the Saatchi Collection at Hamburger Bahnhof, Berlin, Germany. (Viewed 18 September 2021. Q00399).

1998 - review mention

Preece, R. J. (c. October 1998). Gavin Turk at South London Gallery [with mention of Turk's Pop sculpture in Sensation]. World Sculpture News, 4(4), p. 53. (Viewed 22 September 2021.)

c. 1999 - exhibition webpage, installation photos and press releases - Sensation at Brooklyn Museum of Art

(c. 1999). Exhibition webpage and press release for SENSATION: Young British Artists from the Saatchi Collection. [There are additional press statements on the webpage concerning the dispute between the museum and former mayor Rudy Guliani, including litigation.] Brooklyn Museum of Art, New York. (Viewed 18 September 2021. Q00396).




1999 articles

See the articles

1999 - opinion - Sensation exhibition at Brooklyn Museum of Art

(24 September 1999). The Mayor as art censor [regarding Sensation exhibition at Brooklyn Museum of Art]. New York Times. (Viewed 18 September 2021. Q00400).

"Mayor Rudolph Giuliani has exp... ressed his personal outrage by publicly criticizing the contents of an exhibition called 'Sensation,' ... the Mayor has also threatened to withhold city financing from the Brooklyn Museum unless it cancels the exhibition. In doing so, Mayor Giuliani has grossly distorted the First Amendment" (Excerpt from above.)




1999 - review mention

Preece, R. J. (November 1999). Review: Tracey Emin's at Lehmann Maupin, New York [with mention of Sensation and Emin's Everyone I have ever slept with 1963-1995]. Sculpture magazine, 18(10), p. 68. (Viewed 18 September 2021.)

"... Who is Tracey Emin? We only know what she shows— and tells— us. Her life becomes artwork and the content becomes media sensation in art magazines and the general press. It just makes one wonder what Emin would need to do to maintain similar levels of sensation— or will the same public fascination occur if she ever sorts herself out?" (Excerpt from above.)






2000s

2001 - article mention

Preece, R. J. (2001). Tracey Emin: Artist over— and in— the broadsheets [with mention of Sensation and Emin's exhibited artwork Everyone I ever slept with 1963-1995]. Parkett, 63, 50-4. (Viewed 18 September 2021).

2002 - interview mention

Preece, R. J. (November 2002). Exposed: A conversation with Tracey Emin [with mention of Sensation and Emin's Everyone I ever slept with]. Sculpture magazine, 21(9), pp. 38-43. (Viewed 18 September 2021).

"... R.J. Preece: With the tent, the piece itself is constructed with media sensation in it. Tracey Emin: That isn't why I made it though... " (Excerpt from above.)




2003 - article mention

(26 June 2003). Chapmans win Academy prize [£25,000 prize for the "most distinguished work" in the Royal Academy of Arts Summer Exhibition; with mention of Sensation exhibition]. BBC News. (Viewed 18 September 2021. Q00404).

"... A number of the Chapman brothers' best-known works were included in the Royal Academy's successful, but controversial, Sensation exhibition..." (Excerpt from above.)




2005 - article / interview mention

Preece, R. J. (April 2005). Gavin Turk [with mention of Sensation exhibition]. Sculpture magazine, 24(3), pp. 20-1. (Viewed 22 September 2021.)

2006 - article mention

(5 April 2006). Academy plans new US art showcase [with mention of Sensation exhibition]. BBC News. (Viewed 18 September 2021. Q00403).

"... The collaboration [by The Royal Academy of Arts with Charles Saatchi] comes nearly 10 years after their controversial Sensation exhibition helped further the careers of Tracy Emin and Damien Hirst... " (Excerpt from above.)




2007 - article mention

Sillito, David. (10 May 2007). Rock 'n' roll PM: Blair's cultural legacy [with mention of Sensation exhibition]. BBC News. (Viewed 22 September 2021. Q00418).

"... In art, the Sensation exhibition marked the highpoint of Britart ... 'Cool Britannia'... There was a strong political thread to all of this, a need to be seen to be "in touch". But it also reflected a new ambition... The concept of culture expanded and embraced fashion, pop music and video games and the new government wanted to be involved in it all... When the criticism came that this was a government obsessed with image and spin..." (Excerpt from above.)



2010s

2011 - article mention

(15 March 2011). Kay Saatchi artworks to go up for auction [with mention of Sensation exhibition]. BBC News. (Viewed 18 September 2021. Q00402).

"... [Kay Saatchi] also co-curated the controversial Sensation exhibition at the Royal Academy in 1997... " (Excerpt from above.)







2014 articles

See the articles

2014 - announcement

Macpherson, Amy. (6 February 2014). "Sensation" works on view at Christie's. Royal Academy of Arts, London website. (Viewed 18 September 2021. Q00405).

"... Next week, three key works that were exhibited in [Sensation] go on sale at Christie's. In the videos below, Francis Outred, head of Post-War and Contemporary Art for Christie's Europe, discusses Gary Hume's Vicious, Jenny Saville's Plan and Chris Ofili's Popcorn Tits ..." (Excerpt from above.)




2014 - article mention

Sooke, Alastair. (25 November 2014). Chris Ofili: Can art still shock us? [Regarding Ofili's mid-career retrospective at New Museum, New York; with mention of Sensation exhibition in Brooklyn]. BBC Culture. (Viewed 19 September 2021. Q00401).

"... Fifteen years ago, though, when Ofili participated in a group exhibition [Sensation] at the Brooklyn Museum, the reception he received was anything but rapturous. In fact, it was downright brutal... 'We wanted to bring The Holy Virgin Mary [by Ofili] back to New York,' says the New Museum's Massimiliano Gioni, who has curated the Ofili exhibition... " (Excerpt from above.)










2016 - spotlighted feature article

Robecchi, Michele. (23 March 2016). Sensation. Flash Art. (Viewed 18 September 2021. Q00397).

"... Maybe 'Sensation' won't stand the test of time as it wished, but it has the indisputable merit of having captured the final stage of a historical time in British art..." (Excerpt from above.)




2017 - spotlighted feature article

Hayes, Chris. (3 October 2017). Four ways the Royal Academy's "Sensation" exhibition changed art forever. TimeOut magazine. (Viewed 22 September 2021. Q00417).

"... 1. It put British art on the map ... 2. It gave us stronger stomachs ... 3. It thrust contemporary art into the spotlight ... 4. It turned artists into celebrities... Hirst, Emin and the rest became proper tabloid fodder, pictured drunk at London nightlife hotspots and splashed all over The Mirror and The Sun. This was a new era for British artists, but few have managed to scale the same dizzy heights since." (Excerpt from above.)