Letter: Burton Tremaine to Nelson Rockefeller (re: Philip Johnson), MoMA (27 December 1951)
The Miller Company
Meriden, Connecticut

December 27, 1951

Mr. Nelson A. Rockefeller, President
The Museum of Modern Art
11 West 53rd Street
New York 19, New York


Dear Mr. Rockefeller:
Thank you for your letter of November 19.
The Modern Museum has been very helpful to us in the past several years in our effort to bring our product and our industry a high standard of design. Mr. Philip Johnson has been advising us for some three years on product design. We, at this point, have come to consider him as part of our organization. Mr Alfred Barr also has helped us at various times and we are particularly grateful for the foreword he wrote to our publication, "Painting Toward Architecture".
We would like to make the Museum a gift of the lighting equipment involved in their new building and, accordingly, please consider this letter as a credit in the amount of our invoice: namely, $4,927.10.
Very sincerely yours,
THE MILLER COMPANY
B. G. Tremaine, Jr.
President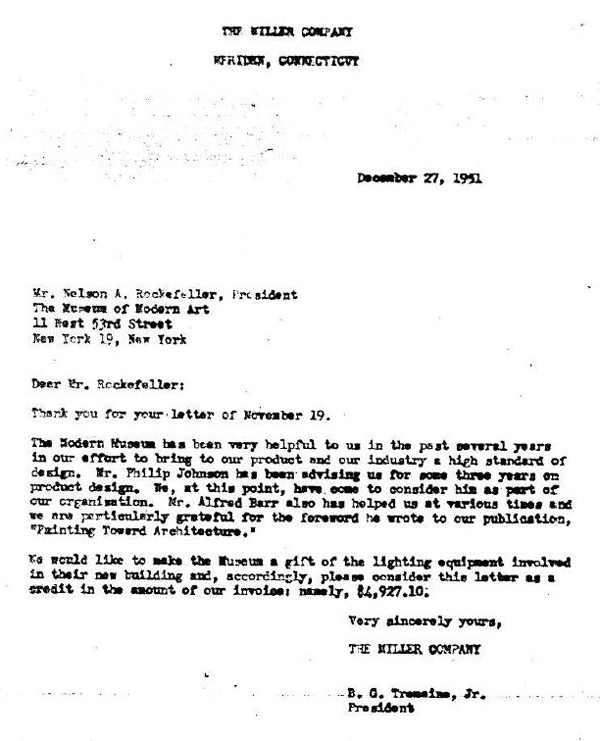 This letter was sent to artdesigncafe.com by Kathleen Housley, the biographer of Emily Hall Tremaine, former art/design director at the Miller Company, in c. 2016. This letter may or may not be in the Emily Hall Tremaine papers at the Smithsonian. (D01031).