Susan Morris at Project 304, Bangkok (1999)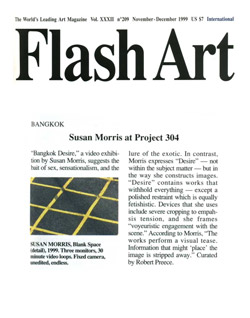 Susan Morris at Project 304
Initiator/Co-curator: R. J. Preece

Bangkok Desire, a video exhibition by Susan Morris,
suggests the bait of sex, sensationalism, and the lure
of the exotic. In contrast, Morris expresses "Desire" —
not within the subject matter—but in the way she constructs
images.

Desire contains works that withhold everything—except a
polished restraint which is equally fetishistic. Devices that
she uses include severe cropping to emphasize tension, and
she frames "voyeuristic engagement with the scene."

According to Morris, "The works perform a visual tease.
Information that might 'place' the image is stripped away."
[(Co-)curated by R.J. Preece].