A triptych across time at Museum van Nagsael, Rotterdam II (2002)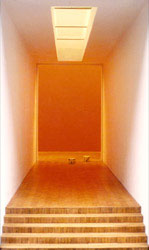 A Triptych across time—Artists respond to Bosch's Garden of Delights
The context: "As recent world conflicts saturate our global psyche and visual memory, Bosch's vision of the world seems strangely compelling again".
The site: the world's smallest museum window showcase, built to scale (1:15), flanked between a vintage clothing store and a 20th century design shop in central Rotterdam.
The proposal: over three month-long periods, three artists (Susan Morris, Jacqueline Pennell and Jeremy Wood) refer to Bosch's triptych (Eden, Hell, and Paradise), c. 1510-15, the contemporary context, and their artistic practice.
Preece: [Could you explain a couple of ways that] you see your intervention as responding to Bosch's painting?

Pennell: The dice refer to those depicted in the painting. I am asking the viewer to "throw" them and see their future unfold in the multitude of possibilities seen in the mirrors…

unlike Bosch, I am not telling a cautionary tale. Instead, I'm suggesting an unstable situation and how life is fragile, unpredictable and often is directed by chance events…
—Jacqueline Pennell in "The Luck of the Dice", World Sculpture News, 2002, Summer issue.
Click to see an organizer reflection of the project.
Update: In 2008, the Museum van Nagsael installation and archive were acquired by the Museum Boijmans van Beuningen, Rotterdam. This was exhibited among other recent acquisitions August-October 2009.