London 2012 Olympics: Copyright / Trademark crackdown vs. M. Contraband, Esq.
Our punk legal advisor offers her thoughts on the London 2012 copyright / trademark crackdown as part of artdesigncafe.com's "opening ceremony".
It's the London 2012 Olympics opening day.
M. Contraband Esq, Punk Lawyer, sips another Americano and checks out Vanessa Barford's report on the BBC News website— London 2012: The great Olympics sponsorship bandwagon— about reportedly vigorous enforcement of intellectual property rights in the Olympic logo...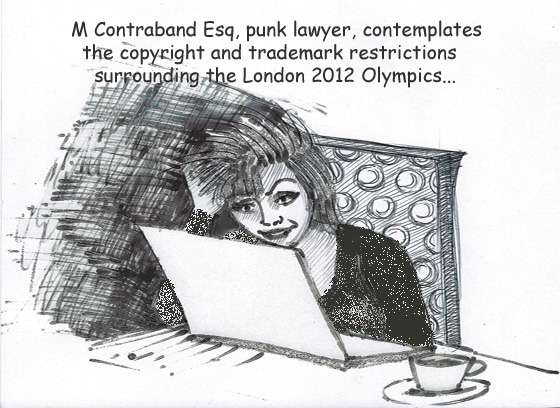 "This seems a bit over the top. It says that— reportedly, only reportedly— people have been warned against using the Olympic rings logo, including 'an 81 year old woman who was hoping to sell a £1 doll wearing a hand-knitted sports kit with a GB 2012 logo and Olympic rings— in a fund-raising sale'."

M. Contraband, Esq would like readers to know that despite the perkiness of her bottom this is not an attempt at "ambush marketing" but merely an editorial piece of... piece of... well, just a piece. Guidelines in connection with use of Olympic related names and symbols protected by copyrights and trademarks have been issued and are available on the internet for anyone willing to plough through them. And if you have the stamina and time to spare, read the Olympic brand guidelines. It's thorough. Very thorough.
Section 9, for example, is particularly gripping: "9. Are there any exceptions to the rules that prohibit use of Games' Marks? There are very few instances where the Games' Marks can be used without our consent. The words protected by the Olympic Symbol etc. (Protection) Act 1995 may, however, be used in editorial news pieces without our authorisation, and journalists are able to use our emblem etc to illustrate an editorial piece about the Games, provided in each case advertising in (sic) not integrated into the Games-related content (such as a sponsored column or supplement) without LOCOG's consent.." Whew. For a moment there it seemed that there might be no way to write about the Olympic Games without breaching the rules. What a relief.
M. Contraband is pretty sure that many folk throughout the land have not read these rules and assumed— reportedly innocently— that they could replicate the copyright and trademark protected rings in homely media like cake icing and tissue paper and pictures of sausages that reportedly were not meant to create any suggestion that they were somehow officially connected with the London 2012 Olympics. Trademarks are supposed to protect the source of the goods or services in question— in this case the Olympics. Somehow, it seems very unlikely that anyone would think such humble expressions of what amounts to folk art were associated with the brand. Were they really likely to dilute the brand or to disparage it, thus lessening its value to actual and future commercial sponsors?
An article in the Daily Mail sums it up pretty well— Man who introduced corporate sponsorship to the Olympics slams London's over-zealous clampdown on shops and businesses using Games logo by Mark Duell and Stephen Wright. The former marketing chief is reported to have said that the organisers are "scoring an own goal", going overboard, over rigorous enforcement of exclusivity rights.
But Britain is known for cutting edge comedy, so it's not altogether surprising that some creative British retailers (like Oddbins) are reportedly finding clever ways to satirise the situation.
Let the London 2012 games begin!