Lisa Holden at Ron Mandos galerie, Rotterdam (2000)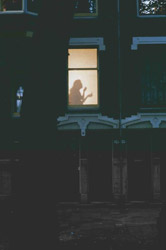 x

UNLEASHED
Lisa Holden at Ron Mandos galerie
Initiator/Curator: R. J. Preece
The site: An art gallery located in a two-story residence that survived the brutal WWII bombing campaign on the city.
The proposal: the artist reinterprets the space as a container of voices, memories, discourses, fantasies, and spirits—which the viewer experiences through performance, visual and sound art.
"Exposing the layers is the key to UNLEASHED. In the two final rooms, three Seeds [III-V] are flooded with light, and the psychological core emerges… The accompanying sound piece Unleashed is a remix of voices, interview texts, the house's sounds, and even discussions related to the show. It's fractured, connected and disconnected simultaneously.

I'm highlighting the many surfaces and ripping them back to expose more, at the same time emphasizing the other surfaces that are unknown..."
—Lisa Holden in "Dissecting reality", World Sculpture News, 2000, Autumn issue.