New discoveries: Emily von Romberg, Max von Romberg, Brünninghausen and more
Living in California in the crazy and increasingly dangerous 1930s towards WWII, the two socialites accumulated a significant amount of media coverage, some with eye-popping controversy. Unfortunately looking back 80+ years later, it is very time-consuming to cut through the publicity chaos and get to the facts. This article / fact sheet aims to set the record straight.
For an important summary, see "Meet the other lady behind the diptych: The depiction of the Marilyn Diptych as autobiographical for Emily Hall Tremaine". (Scroll down to article.)
It is also important to note that the extensive media coverage of this era is not really searchable on the Web. One must dive into a range of newspaper databases, often available in strong libraries with depth of coverage.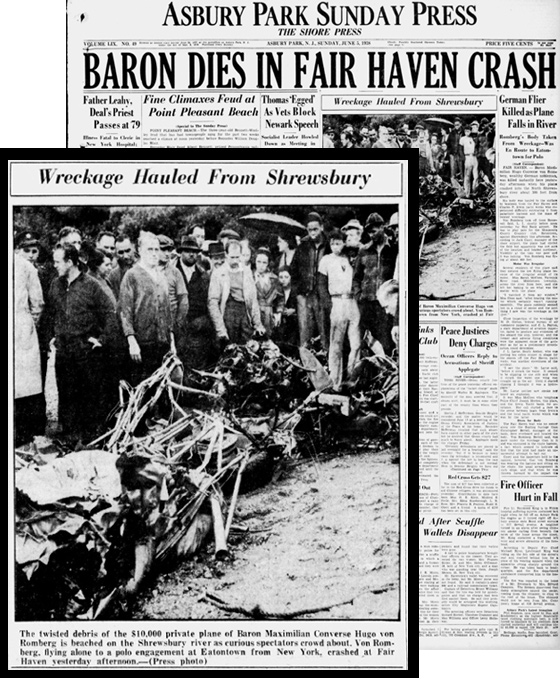 Front page of Asbury Park Sunday Press with press photo showing the wreckage of the plane crash causing the death of Max von Romberg in New Jersey in 1938. He was flying his plane to a polo match, and was also quietly securing American citizenship and expatriating from Germany, unknown to the public. His wife Emily von Romberg (later Tremaine) was traumatized over decades. Emily's niece, Janie Noble (born c. 1940), in interview in 2006 in Santa Barbara magazine, recalled "She'd start talking about him and start crying... She admitted to me once that Max was the true love of her life."
INTRODUCTION
The newspaper discourse from 1928-45 regarding Emily von Romberg (later Tremaine) (1908-87) and Max von Romberg (1911-38) and later, Emily and Adolph B. Spreckels, Jr. (-1961), mainly focuses on their lives as young, wealthy socialites in Southern California. They were meeting various people in an increasingly more mobile world, and they are often mentioned and photographed at parties with people like Barbara Hutton and Cary Grant, Doris Duke, Tarzan, Clark Gable, minor royals, President Roosevelt's mother, and those at the higher social end in the Blue Book / Social Register. Within this, certain high-end hotels and clubs were visited, and various social mentions related to horses, show dogs, polo, shooting clubs, etc. occur.
Overall, Emily is considered a "social leader" based in Santa Barbara, Max is a polo player and a bit of a daredevil, and Spreckels is, well, deeply troubled. Within this wider context, disturbing pro-Nazi and extreme violence allegations occur, in about 10 instances, slices of time, and receive significant volume of media coverage nationally and internationally.
In my case with my art / design focus of Emily Hall Tremaine's post-WWII work— and isolated focus on the more sensational 1930s publicity— it was a block in understanding the contexts that the pro-Nazi allegations occurred. I've come to the conclusion that the way to better understand these contexts is through the lens of SoCal celebrity and society biography, like that for Barbara Hutton, Cary Grant, Doris Duke, etc. Why? Because this was the far dominant setting of Emily and her first two husbands' 1930-45 lives. (Emily's life post-1945, dived deeply into contemporary art and design initiatives and away from fast-paced society and celebrity publicity culture. It is as if almost all of her energy shifted to the arts.)
Secondly, as with Hutton, choices of nationality— German and/or American in Max and Emily's case— must be flagged up, not only in relation to the developing horror in the 1930s in Germany— one couldn't necessarily predict the future— but also regarding 1930s wealth management. Rapidly changing taxation rates [up to 70% on the US side regarding inheritances], threat of asset freezing and seizure, must also be considered in decision-making, like they would today. This is in addition to the threat of conscription by the German military through the 1930s of expatriate German nationality holders, like Max, in the US across that decade. Additionally, directives by the German government on German nationals and those with family in Germany— in the US— need to be considered and those practical effects.
Further, pro-Jewish activity by Emily and Max in late 1935-1936 should be more closely considered and researched, particularly regarding their society / literary magazine Aperitif. The delay in Spreckels agreeing to a divorce in 1945, Emily's third attempt, right after the Yalta Conference when Allied forces met to decide how to decide to partition Germany, is another key element not previously reviewed. This third attempt resulted in a closed proceeding and sealed court record. Finally, Emily's post-1945 art / design project decision-making— bringing on a prominent Jewish arts professional (Serge Chermayeff), and two men known later to be gay (Henry Russell Hitchcock, Philip Johnson)— with an anti-Nazi / Bauhaus-oriented agenda needs to be considered as well.
BACKGROUND: MAX UNTIL AGE 17
Lastly, Max's "German-ness" in relation to his "American-ness" must also be more closely looked at, as well as his ties to Emily's family. Her older sister Jane is listed as the second recipient in his 1937 will (after his wife Emily); her husband was Assistant to the Assistant Secretary of the Navy. Also, it looks as if Emily's mother may have possibly partly raised him during his teenage years as a surrogate parent.
Max recap, some of this new information: Max was born in Germany in 1911. His father was Baron von Romberg. After the age of 3 in 1914, his father gets killed in WWI and his mother returns with Max to the US. Max was re-named "Max Converse" at some point afterwards, given his mother's maiden name, like his two older step-brothers. His mother's father was the very wealthy US banker Edmund Converse, and there were later trust funds while Max was alive. (It also should be noted that no assets in Germany at all are mentioned in Max's 1937 will, which seems odd or inaccurate given his "baron" title; the major element is his trust from his deceased grandfather, Edmund Converse.)
At about the age of 10, Max Converse is in Zurich— with his mother and a Dutch step-father, Dutch Vice-Consul H. Salomons. (It is important here to note that Salomons is widely considered a Jewish name in the Netherlands, but if H. Salomons was Jewish is not yet confirmed, and there's no knowledge about Max and his relation to date.) At age 12 in 1923, Max appears "parked" in the US, while his American mother returns to her social European life and to either her third or fourth husband. At some point, Max ends up in Santa Barbara before marrying Emily after he just turned 17. (Max's two older step-brothers and his mother's brother are living in the wider SB-LA area around and before this time, but it is not clear where Max was living from age 12 to 17. His mother seems to visit for a month at a time, then returns to Europe.) Max did take back his name Von Romberg at some point, before turning 17, and according to Emily in a 1940 deposition, he re-took his Baron title six months before their marriage.
DISCOURSE CONSTRUCTION
The secondary source discourse and discussion regarding pro-Nazi allegations have been built largely from two sources, mainly chapters two and three in Emily Hall Tremaine: Collector on the cusp (2001) and in Tremaine houses (2019), mainly chapter 2. Unlike my current pursuit focused on the 1930s, these books had far wider remits. In the former, the remit is a biography covering a rather eventful life over 79 years. In the latter is a survey of a large number of mainly architectural projects. In these contexts, in my view, the pro-Nazi and extreme violence accusations had to be dealt with, in some way. In these two books, two waves of important sources were put forth, helping to build the discourse. However, there is, as expected, greater depth and complexity to this story.
Waves of digitization continue to show more extensive historical media coverage, which can contain facts, but immediately on the text surface in itself, we don't know exactly what the facts are. Stories develop, change, etc. and we may be seeing just a slice of a developing story. Additionally more records have become available and more cost-effectively obtained, for those willing to put in the time.
With these above mentioned contexts, the following fact sheet is in development, and refers to a selection of over 3000 offline sources in my ongoing investigation. Below is a shortlist to accommodate busy people with clear references provided.
New documentation for the secondary source discourse
First and foremost, it is essential to secure a copy of the court record of the divorce filing, 1940-41, Emily Spreckels vs. Adolph B. Spreckels, Jr. (See Emily's initial divorce filing alleging Adolph's pro-Nazi support and extreme spousal violence. Emily clearly stated that she found the Nazi cause repugnant and against her principles and ideals.
This is the key primary source documentation regarding the two and their allegations. His counter-allegations three months later regarding Emily and Max von Romberg are also put forth, and her response statement and details in her deposition.The two previous rounds of historical accounts did not refer to this documentation, but instead secondary source news report summaries.
FACT SHEET
This section is in development
> American Kennel Club birth records show that the dog in the portrait painting by Cecil Clark Davis was registered with the name "Tara", not "Swastika" as previously thought. This can be seen in the colors and age of the dog depicted. Tara gave birth to a dog named Swastika. Max and Emily had a number of other dogs, most registered with Max as the owner; the others had standard dog names like "Trouble". Emily insisted in deposition and in another statement that the swastika reference was Indian, a "reverse" swastika. There's a lot more to this, and looking very closely and confirming the sourcing used in the secondary source discourse is necessary, regarding this and other "swastika matters". While looking back the "swastika" references are rather late in the 1930s, one needs to consider the shift in "swastika" meaning and its other usage in the American Southwest leading up that, and clearly anything related to "German" at that time creates legitimate suspicion.
> Additionally, good practice would be to learn about the details of the restoration of a portrait of Emily, some time after her death and c. 1997. This is specified in her probate file in Madison, CT. It is not known whether this was the portrait restored, or another portrait.
R. J. Preece is author of the forthcoming book Surviving California: Emily Hall Tremaine's publicity-filled journey through Nazi danger, and her shocking, violent fall (as bombs rained on Britain and the U.S. entered World War II).
READ MORE:
1: New discoveries: Emily von Romberg, Max von Romberg, Brünninghausen and more | 2: Emily Spreckels, Adolph B. Spreckels, Jr., Brünninghausen and more