Cosey Fanni Tutti & Genesis P-Orridge in 1976: Media frenzy, Prostitution-style
With COUM Transmissions, the two shocked with Prostitution at London's ICA 45 years ago, generating a discussion across the media.
Anyone who publicly declares that their art show was "a joke... a parody of all that is wrong with the art world" can't be all that bad.
Anyone who does this exhibiting works at a major venue is born to become a tribal leader.
This brings us back to an exhibition by COUM Transmissions featuring Genesis P-Orridge of the post-punk band Throbbing Gristle— and later Psychic TV— with art partner Cosey Fanni Tutti.
The following "art and media coverage" case study is featured in John A. Walker's Art and Outrage (1999), a must-read on the Art Design Publicity front. Now if you are looking for incomprehensible theory, shiny adverts, camp contributor photos, and a top-down hierarchy ruled by 20, you do know where to get that. But if you want art history with balls, then Walker just might be your historian of choice...
Love it, hate it, you decide.
"1976: From Shock Art to Shock Rock" by John A. Walker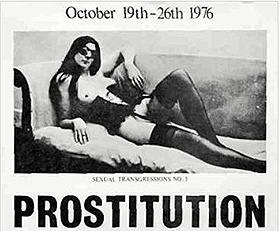 Neil Andrew Megson (b. 1950, Manchester) came from a middle-class background and, after attending grammar school in Stockport, he studied philosophy, sociology and social administration at Hull University but dropped out before completing his degree. At Hull he adopted the name Genesis P-Orridge and met Cosey Fanni Tutti (b. 1951). In 1969 they formed COUM Transmissions, a performance art group. "Sleazy" Peter Christopherson joined later.
Significantly, neither Genesis P-Orridge nor Cosey Fanni Tutti went to art school. They became contemptuous of artists who pursued conventional careers via the private gallery system. Contact with a live audience was essential to them and, in an attempt to recapture the reality and power of tribal rites, they emulated dervishes, shamans and witch doctors.
During the early 1970s, COUM Transmissions moved to London where, having established a reputation as performers, they received grants from the Arts Council for events in Britain and from the British Council for events abroad. The public funds they received were later to provoke angry headlines in the popular press such as "Sex Show Man's Amazing Free Tour", "State Aid for Cosey's travelling Sex Troupe" and "How Orridge and Co. Got £59,000". The large sum mentioned in the latter headline was the Arts Council's annual funding for all experimental artists. For the record, the sum received by COUM from the state during 1975-76 was around £2000.
Some COUM Transmissions events involved nudity, sexual behaviour, simulated blood, self-inflected suffering, wounds and burns, and were designed to transgress social norms and to disturb audiences, but others were more pleasing. A solo performance by Cosey Fanni Tutti at the Hayward Gallery, for instance, consisted of a gentle, balletic display of bodily movement.
Candlelight was used to create a magical atmosphere and a large audience, which included children, found the performance hypnotic and pleasurable.
The year 1976 was momentous for Genesis. During February and March he contributed to a major show of English art held in Milan. In April he appeared at the Highbury Magistrates' Court charged with sending indecent images through the post. GP-O had mailed postcards with collaged erotic additions and this resulted in a prosecution by the GPO (the General Post Office!). Genesis P-Orridge was found guilty and fined £100 plus £20 costs. Then, in the autumn, the COUM Transmissions show Prostitution held at the ICA (19-26 October) caused a public scandal. The very title was a provocation and so was a press release with a photo of Cosey Fanni Tutti posing in a manner reminiscent of the French whore Olympia painted by Manet in 1863.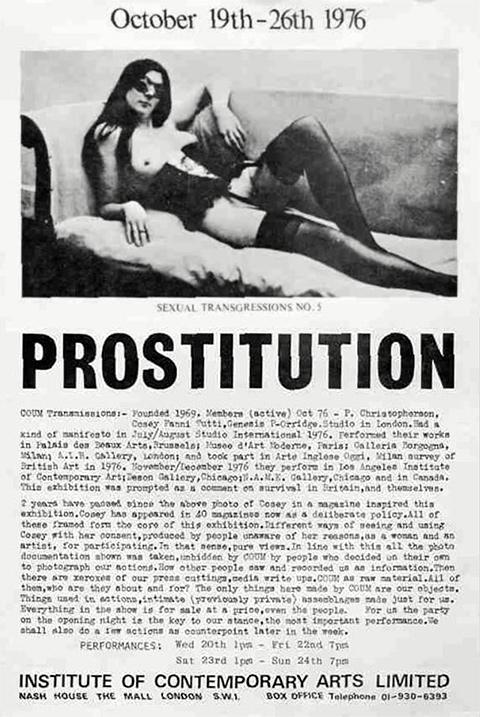 COUM Transmissions. (1976). Prostitution. Flyer for exhibition at the ICA, London. 29.6 x 21 cm, with photo of Cosey Fanni Tutti from Curious magazine.
"Dirt" has been defined by anthropologists as "matter that is in the wrong place". A short distance north of the ICA premises in the Mall was Soho with its sex shops, strip clubs and prostitutes. What COUM Transmissions did was to transpose material that British society tolerated in one place to another place where it was not to be tolerated. In order to survive, Cosey Fanni Tutti had been working as a stripper and a model for porn magazines. Photographs of these activities were featured in the ICA show, presumably to make the Marxist point that most of us have to "prostitute" ourselves to some degree by selling our mental or bodily labour powers.
Emmanuel Cooper's description of the contents of the show was as follows:
"The exhibition consists of explicit photographs of lesbian love and macabre assemblages of rusty knives, syringes, blooded hair and used sanitary towels one of which is growing mould. Less controversial are montages of press cuttings and photographic documentation of COUM performances in Milan and Paris."
The presence of used Tampax disgusted journalists, especially since it immediately followed Mary Kelly's "dirty nappies" exhibition. Genesis P-Orridge claimed that the main feature of their ICA appearance was not the exhibits but the live performance or party planned for the opening night and four subsequent, spontaneous "action performances". In the wake of the storm of indignation that greeted the show, the latter were abruptly canceled. Erotic photographs of Cosey Fanni Tutti were also removed from the wall and placed in a box "available on request only".
Nicholas Fairbairn, a Tory MP, was one of those who attended the crowded, evening opening at the ICA on 18 October and heard "doom and gloom rap" from Genesis, "masochistic" music by Throbbing Gristle, all wearing "black lurex", and witnessed striptease by Shelley who had been specially hired for the occasion (she was rather disconcerted by the art world venue). LSD [which later became "Chelsea"], a Punk band, was the supporting act. Fairbairn was dismayed by the presence of "Hell's Angels (Punks more like) and men with multi-coloured hair" in the audience. As far as Fairbairn was concerned the COUM Transmissions performers were the "wreckers of Western civilisation". He remarked: "Now we are getting the lid off the maggot factory".
"Sick, sadistic, obscene, filthy rubbish, pornography" were some of the opinions reported in the press the next day. In the Daily Telegraph the cartoonist Garland showed the muse of art being mugged outside the entrance to the ICA by the three members of COUM Transmissions all dressed in black. The tabloids excelled themselves. Headlines included: "Cosey's Sex Romp Pictures are Banned", "Peddling Porn at the Taxpayer's Expense". The breathtaking hypocrisy of the tabloid press was indicated by the fact that, while front pages were condemning visual art about sex, inside pages were carrying illustrated cinema advertisements for sex films showing in Soho. In other words, the press "prostituted" itself for money just like Cosey Fanni Tutti. The double standards of the press are well illustrated by the fact that newspapers such as the News of the World and the People pander to their readers' prurient interest in sex, murder and violence but criticise artists who are also fascinated by such themes and who make use of them as iconography.
On the whole, art critics were more sympathetic to the show. Marina Vaizey's review for the Sunday Times was dispassionate and rational. Her report was headed "Much Ado about Nothing at the ICA".
COUM Transmissions incorporated negative press comment into their exhibition and issued a publicity leaflet which reproduced it. Clearly, COUM hoped to use the media to demonstrate how journalists were misrepresenting the show, to turn the press against itself. (An instance of the Situationist tactic of détournement.) Genesis also had an opportunity to defend the exhibition in public when he was interviewed live on Today (Thames Television, 22 October).
As a result of all the negative press coverage, other Conservative MPs became agitated and asked questions in the House of Commons about the Arts Council's policies and methods. A Labour government was in power but was experiencing economic difficulties and hence there was a clamour for reductions in public spending, particularly money spent on such "dubious" cultural activities. There was also concern about a national decline in standards of morality. Officers from Scotland Yard's Obscene Publications Squad were thus prompted to visit the ICA and they submitted a report to the Director of Public Prosecutions. In any event, however, neither COUM Transmissions nor the ICA were charged with any offence.
Ted Little, director of the ICA, was put under pressure by the media and by his paymasters, the Arts Council (the ICA was then receiving £80,000 per annum from the Council). Little pointed out that only £200 had been paid to COUM Transmissions towards the expenses of Prostitution and that the ICA's membership had increased sharply as a result of the COUM show. Furthermore, he felt that the ICA had a duty to act as a platform for contemporary avant-garde art whether he personally liked it or not. Roy Shaw, secretary-general of the Arts Council disagreed. Little, he considered, had a duty to be discriminating in his choice of which events he produced. Shaw visited the exhibition and found it "boring and disgusting". He was not in favour of banning such shows but did not think they should be funded by the taxpayer. Shaw was under pressure from the Arts Council's chairman Lord Patrick Gibson to close the exhibition but he refused on the grounds that the Council should not censor its client's exhibitions. However, he did relay the Council's disapproval to Little, and the exhibition was modified.
In terms of the history of art, Prostitution was not an exhibition of major importance and, aside from the live performance, there was little in the way of aesthetic pleasure. (Simon Ford has argued that the show was "an attack on traditional artistic values, still dominated by formalist criteria".) Nevertheless, it should be possible for contemporary art venues to present documentary exhibitions about the work of performance artists and about such subjects as prostitution without being subjected to such a torrent of denunciation. As a moral panic and media phenomenon Prostitution was highly significant. Writing in 1996, Ford summed up its political ramifications as follows:
"...it gave the Tory supporting papers an opportunity to discredit the Arts Council and the contemporary arts establishment, its liberal supporters and by association, the Labour Government, by implicating contemporary art in declining moral standards: economic crisis was equated with moral crisis."
Even members of COUM Transmissions seem to have been taken aback by the fury and hysteria which, to some extent, they had set out to arouse. (During the years 1975 to 1977 the Punk rock band the Sex Pistols behaved in a similarly aggressive manner and then were unable to control the madness they unleashed.) Genesis P-Orridge claimed that the show had been designed as "a comment on survival in Britain" and as a demonstration of how the media distort information, and this had been achieved. On another occasion he declared it was "a joke... a parody of all that is wrong with the art world". It was a dangerous game to play and it effectively ended his participation in the realm of fine art.
While burning his boats in spectacular fashion in the art world, Genesis was switching his attention to the realm of rock music by forming the band Throbbing Gristle, which in 1981 transmuted into Psychic TV. Around the latter a youth cult was deliberately fostered entitled The Temple ov Psychick Youth. Despite death threats to him and his family (Genesis P-Orridge and his wife Paula have daughters called Caresse and Genesse), Genesis continued to employ shock tactics: dissonant sounds and videos with violent imagery— all in the service of "sex, resistance, subversion and discipline". His enemies accused him of being "a vile man" who used his satanic cult in order to corrupt and brainwash teenagers, but Genesis claimed that what he was trying to do was to "de-programme" them by providing alternative information and rituals that challenged the all-pervasive "control" exercised by dominant social powers such as organised religion and mainstream mass media.
Psychic TV's anti-entertainment ethos generally precluded a mass appeal but in 1986 they did have a hit single and promo-video with Godstar, a song about Brian Jones (who died in 1969) of the Rolling Stones.
In 1992 newspapers carried reports of a video showing "bloody ritual satanic abuse". Scotland Yard's Obscene Publications Squad then raided Genesis P-Orridge's Brighton home and seized books, letter and videotapes. He was accused of making the offensive tape which included footage of the noted homosexual film-maker Derek Jarman, and which had in fact been projected during Psychic TV's multimedia concerts. Genesis has admitted to self "body mortification" (such as the monks of old practised) in order to achieve "altered states". The fact is that anyone with a video recorder and a morbid imagination could easily compile a tape consisting of clips of surgical operations, scenes of rape and torture, killings in wars, and so on, from news broadcasts, documentaries and feature films transmitted on mainstream television. Such a tape might be repellent and negative but surely it would not be illegal (except perhaps on copyright grounds). It would also be realist in the sense of showing what many human beings are capable of doing to other human beings.
To escape further harassment by British authorities, Genesis P-Orridge moved to the United States. Genesis and his collaborators aroused extreme antagonism in many quarters because they transgressed unspoken rules not to meddle with the subconscious, the occult, sex, ritual, horror and violence. Yet it can be argued that they explored dark forces not to endorse them but to exorcise them and to extend human self-understanding.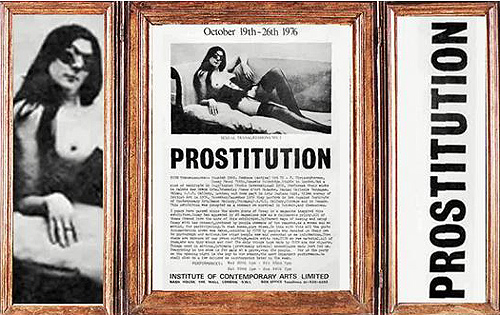 Devotional triptych to Cosey Fanni Tutti by former editorial assistant D. M. Gray with editorial brief by Art Design Publicity (2009).
Please welcome our honoured guests!
[Art Design Publicity editorial:] Now again, think what you like about their art and media performance, but please join us in a warm round of applause for Genesis P-Orridge, Cosey Fanni Tutti, and John A. Walker.
John, Genesis, Cosey, please take your seats at [ADP's] Post-Punk Banquet.
Notes
> Colin Naylor. "Couming Along" (interview with Genesis P-Orridge). Art & Artists, 10(9), (December 1975), pp. 22-5.
> "'Dirty' Porridge". Time Out, 318, (16-22 April 1976), pp. 8-9.
> "Prostitution". ICA Magazine, (October 1976).
> Michael McCarthy. "Bust-up at Gallery of Porn". Daily Mirror, (18 October 1976), p. 15.
> Neil Blincow. "Cosey's sex romp pictures are banned". Evening Standard, (19 October 1976), p. 6.
> "MP's fury at porn palace". Daily Mirror, (19 October 1976), pp. 1-2.
> Thompson Prentice. "Adults only art show angers an MP". Daily Mail, (19 October 1976).
> Brian Park. "Sex show man's amazing free tour". Evening News, (20 October 1976), p. 1.
> Michael O'Flaherty. "State aid for Cosey's travelling sex troupe". Daily Express, (21 October 1976), p. 3.
> Nicolas de Jongh. "British Council attacked for 'porn subsidy'". Guardian, (21 October 1976), p. 6.
> Garland. "Muggings increasing" (Cartoon). Daily Telegraph, (21 October 1976).
> Keith Dovkants. "Sex show report for DPP". Evening Standard, (22 October 1976), p. 1. & 48 (plus editorial, p. 19).
> Caroline Tisdall. "Genesis and Cosey". Guardian, (22 October 1976), reprinted in Caroline Tisdall's Grist to the Mill: Selected Writings 1970-1995. (London: Red Lion House, 1995), pp. 328-30.
> "Yard acts over that P. Orridge sex show", plus editorial. Evening News, (22 October 1976), p. 2.
> Nicola Tyrer. "You've just spent £37m looking for a genius". Evening News, (22 October 1976), p. 14.
> Anthony Holden. "No more P. Orridge at the ICA". Sunday Times, (24 October 1976), p. 3.
> M. Vaizey. "Much ado about nothing at the ICA". Sunday Times, (24 October 1976), p. 37.
> Emmanuel Cooper. "The politics of art". Morning Star, (25 October 1976).
> Tony Parsons. "But darling, mutilation is so passé..." New Musical Express, (30 October 1976), p. 47.
> Sheldon Williams. "Genesis P-Orridge". Contemporary Artists, C. Nayior and G. P-Orridge (Eds.), (London: St James' Press, 1977), pp. 770-2.
> Sarah Kent. "Visual Arts: Prostitution didn't pay". Time Out, (24 December 1976 - 6 January 1977), p. 17.
> "Tutti Frutti". Guardian, (20 August 1983), p. 11.
> John A. Walker. Cross-Overs: Art into Pop, Pop into Art, (London and New York: Comedia/Methuen, 1987), pp. 129-34.
> Sir Roy Shaw. "Art for whom? The Arts Council's mixed performance". Modern Painters, 1(1), (Spring 1988), pp. 64-7.
> Simon Dwyer. "From Atavism to Zyclon B". Rapid Eye, 1, (1989), pp. 65-94.
> Eileen Fairweather. "Video offers first evidence of ritual abuse". Observer, (16 February 1992), p. 4.
> David Rose. "Scotland Yard seizes videos and books after TV film of 'ritual satanic abuse'". Observer, (23 February 1992), p. 11.
> Simon Ford. "Doing P-Orridge". Art Monthly, 197, (June 1996), pp. 9-12.