Billie Ray Martin interview: The Opiates & Hollywood under the knife (2012)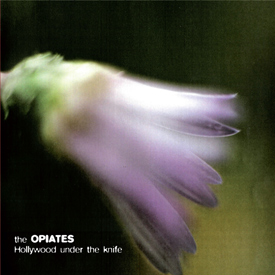 Divas, transvestites, and rising stars striving for sanity, identity, or that next plastic surgery fix. Their stories, among others, are brought to life by the electronic beats of Hollywood under the knife, The Opiates' debut album. Dubbed "the Carpenters of electro", The Opiates are composed of singer / songwriter, Billie Ray Martin and musician Robert Solheim. In Hollywood under the knife and its associated EP, Rainy days and remixes, they spotlight the sometimes negative and bizarre impact of Hollywood internationally by exploring issues such as self-image in Anatomy of a plastic girl and Reality TV and finding life's purpose in Candy coated crime and Rainy days and Saturdays.
The CD was further enhanced by The Opiates' collaboration with a number of other artists. Its cover and booklet are adorned with previously unseen and unpublished photos by photographer Wolfgang Tillmans and the EP includes remixes of three of the album's songs by the likes of Kim Ann Foxman (Hercules and Love Affair), Chris and Cosey (Throbbing Gristle) and XHK. Through all of its vivid artistic elements, each song on Hollywood under the knife allows listeners to step into a seemingly insane, but surprisingly relatable world.
Billie Ray Martin is well known for her number one solo hit Your loving arms, her previous work in the band Electribe 101, and collaborations with Steven Mallinder and Vince Clarke among others. To gain insight into the inspiration behind Martin's lyrics and a behind the scenes take on Hollywood under the knife, artdesigncafe interviewed her to learn more.
The Opiates (Billie Ray Martin & Robert Solheim). Rainy days and Saturdays (Radio edit).
ADC: For Rainy days and Saturdays you sing about a fictitious transvestite, Candy Darling, who, "although leading the wild life and preparing for a sex change, dreams of married life and a house in the suburbs". Your inspiration please?!
Billie Ray Martin: She is not fictitious. She existed and her life is told in my song as it was. The words are taken out of her diaries and put into a song, in my own way, adding my own interpretations of what he meant.
ADC: Sorry Billie Ray. Sorry Candy!
The Opiates (Billie Ray Martin & Robert Solheim). Anatomy of a plastic girl (Chris & Cosey Remix).
ADC: You describe the story of Anatomy of a Plastic Girl as a "young wannabe actress in L.A. who reflects on her facial surgery that has left her scarred and punctured with holes inside and out". What particularly inspired you to make this song?
Billie Ray Martin: What inspired me is probably a large number of people that I saw while in LA, and also in magazines on a daily basis, who believe that they have to subscribe to a barbie doll beauty idea in order to get ahead in life.
Don't forget also that in the whole of South America as well as the Mediterranean countries such as Italy, Spain, etc. and many other countries in the world, it is the image that women strive for.
I find this so bizarre, and it was in the back of my mind to write a song about this.
Even some of my tranny friends who have had surgery want to look like pumped up Barbies. In South America, namely Buenos Aires, the poor transvestites on the game inject airplane oil into their butts and breasts to get work, because apparently their johns like it. I saw them lined up with their asses out.
The only difference between Nicole Kidman (and all other pumped up celebs) and the "Airplane Oil Transvestites" is money. The mindset is the same.
LA is the epicenter of where these images originate. I wanted to meditate the situation where a seemingly normal girl who wants to get some jobs in television reflects on her experiences. She feels strangely hollow and numb, her scars hurt, inside and out. She still feels a nobody, not fitting in.
ADC: You chose Chris & Cosey to remix this for the associated Rainy days and remixes EP. As we know, both were part of Throbbing Gristle and Cosey Fanni Tutti is also a very influential visual artist based on her work with the now-classic Prostitution art show (1976) at the ICA in London. How did you meet them, why did you ask them to remix this particular song, and what do you think of the result?
Billie Ray Martin: I covered Throbbing Gristle's Persuasion years ago and I knew that they all really liked it. I believe they were therefore aware of me and my work. Genesis P-Orridge said many times he couldn't believe how I sung the vocals almost exactly as he did. He asked me whether I had studied them for a long time. But I have a photographic memory for words and melodies, so I told him that I just knew them.
It seemed on the cards to ask Chris and Cosey as I was and am a big fan of their classic electronic singles and albums. I picked a time when they had a gap in their schedule. I love what they did to the song; they were true to the original version but added their own touches and some more production.
The Opiates (Billie Ray Martin & Robert Solheim). Candy coated crime.
ADC: In Candy Coated Crime, you describe it as a "woman who employs strange sexual fantasies involving the TV series CSI, to keep the boredom of life at bay". What inspired you to write this?!
Billie Ray Martin: I watched CSI as it's constantly on TV. It's murder, guts and violence— in candy colours.
This seemed strange to me. On the one hand it looks kind of dated, in a 90s sort of way to have this pop video colour scheme going on. On the other hand, it seems, since it's the most successful TV show out there, that people want to see their guts in multi-colour splendour.
The plots are literally non-existent or if they have them, then I certainly don't know what the hell they are! The dialogues are mindless.
The woman with her fantasies is almost just a spectator who is not of very much importance here. She just feels strangely attracted to all these pretty people in pink and blue shooting each other's brains out.
ADC: Do you see yourself as working in the genre of catchy dance tracks with shock lyrics? It makes one think of Meat Beat Manifesto's dance track Genocide.
Billie Ray Martin: I guess I've explored various ways of writing a (hopefully) good song. So it depends on the music whether I go for pop, warmth and emotion or something more challenging. It is certainly never for shock effect.
I want to inspire and write from a perspective where I have already dealt with the subject I'm writing about, instead of stating the obvious. When you shock you state the obvious.
In my daily life I often want to shock people into making decisions that cause positive changes, for instance to stop buying fur-trimmed clothing. I want to tell them that it's their dogs and cats that were skinned alive. In a song, however, I would find a totally different way of doing this.
ADC: Now, for I'm not Simone Choule, you sing about a "man who dresses up in women's clothes (Roman Polanski in The Tenant) trying to fight the people he believes want to kill him by convincing him that he is Simone Choule, a woman who committed suicide in the apartment that he now rents"?! What inspired you?
Billie Ray Martin: The Tenant is my favourite movie and will always be my favourite movie. It was only a matter of time until I put myself into his shoes in a song.
I wanted to add my own interpretation of what Polanski's character felt when he believed they wanted to drive him to suicide. I feel that no one but Polanski can put this kind of isolation across in this way. When he tries to turn to work colleagues and acquaintances to ask them whether they had ever experienced this kind of thing, and he gets no replies that he can use, his isolation is complete— and he is driven to suicide. My kind of story.
The Opiates (Billie Ray Martin & Robert Solheim). Oprah's book Of the month (Part two).
ADC: For Oprah's book of the month, you sing about "The aging formerly rich daughter of a formerly famous actress who reminisces about her mother feeding her tranquilizers as a kid to keep her out of the way and who later goes through a path of plastic surgery, health foods, porn movie making... all to find out who she is."
Billie Ray Martin: I actually don't know how this character came about. I wanted to describe a character who could be a little too "real" to end up in Oprah's club really. Porn, surgery, drugs, obesity, it's all in a poor little rich girl's life to self-discovery. Not an unusual story as far as I can see.
I thought it would be funny to tell it as if Oprah would read from the book.
ADC: And why are there two parts to the song?
Billie Ray Martin: The first version of the song has some additional lyrics, where Whitney Houston plays the character in movie but i thought "enough already". Let's shorten it and make a new version with less words.
ADC: Were there a particular song on Hollywood that was particularly difficult to make? One that was easy?
Billie Ray Martin: Reality TV was the most difficult. It has a more pop sound, more electro. It was really difficult to mix and to sing too as the voice has to be really straight and spot on.
It took ages. Then mastering it was a problem for the same reasons: many sounds needed to be embedded to make a good sounding whole.
ADC: There's something about this music that is strange and interesting that I can't place, the way the lyrics and your singing are interacting with the music. It's like it's "disco" but it's not "disco". Are you putting disco on its head? I can't place it, but you're confronting the listener in some way...
Billie Ray Martin: I haven't thought about this really. Some people hate the album saying it's lightweight, but i believe that their ears have been tainted by all the "noisemaking for the sake of it" brigade releases, that are out there en masse.
You have to really sit and listen, and who does that these days? You have to give it a chance. I have not personally seen a disco connection but i guess it's nice if it does also have a bit of that in some people's eyes.
Robert Solheim who produced the album (with me acting as a moaning executive producer) really could tell you more about where the inspiration for the music comes from. I wrote the lyrics and melodies only. Robert has his own style going on, and I know he's very particular about the quality. He only records something he's really convinced and inspired by, and I feel that makes for a very unique approach. It certainly inspired me to come up with these songs.
I had already written a few songs but most were backing tracks that he sent me, after we had chatted about the fact that I'm a verse-bridge-chorus kind of writer. And I needed those sorts of arrangements, and I was inspired to then write those words and melodies.
Robert has an uncanny ability to deliver something that works, as opposed to ignoring what I say and just doing his own thing. He is able to listen to people and then take his own style and deliver something great.