Billie Ray Martin & Ceven Knowles: Favorite videos from the Opiates' Hollywood under the knife project
We asked singer Billie Ray Martin and Ceven Knowles, who directed five videos for the Opiates release, to select three of their favorite videos from the project. Here's what they had to say.
The Opiates (Billie Ray Martin & Robert Solheim). Anatomy of a plastic girl. Video directed by Jörn Hartmann.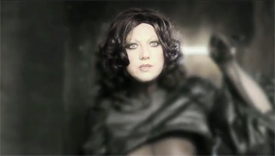 Billie Ray Martin: This video is the best video I've ever had the pleasure to make. It was shot at a porn studio in Berlin by porn director Jörn Hartmann, complete with a cast of porn stars as extras. We used various porn studio props as there was no budget for other ones. There were seriously good sets and lighting; it was a dream come true for me. I did the styling and kitted out the cast as well as my own styling.
I showed up with the white fetish masks that the knife-wielding "journalists" are wearing and we almost died laughing. Often while I was on the set looking "Hollywood" I had to overhear "trade secrets" shared by the porn studio extras sidestage, to which I often shouted: too much info thank you. Jörn Hartmann was amazing, almost reading my mind, picking up on my brief and ideas and making them into something better than I could have possibly done.
Ceven Knowles: For this video, I made a collage of memories in the form of film leaders, old found footage, and pills composited onto clouds in a tranquilizer trip as experienced by a child. At the onset of working on the Opiates project, I knew exactly how this video should be.
My inspiration came about while previewing the songs for the first time. The music is weightless and captivating while the vocals are dark and flow like someone lying on the psychoanalyst's sofa recalling memories. I pictured the words as the first person narrative to this character's book maybe taken in part from recorded therapy sessions and asked myself, "Lying there at that moment with eyes closed telling my life's story, what does it look like in the mind's cinema?"
What I like most about this video is how it communicates with others who watch it. There's always the risk of tipping the balance in one way or another that makes a piece less accessible than intended, but this one hit the bull's-eye and as a result now people offer their old Super8 film footage to me for use in future works and that's a special reaction.
Ceven Knowles: This video is about lying in bed with eyes closed waiting for the dream state. This piece fuses together images abstracted from the official music video by Jörn Hartmann and two older pieces of mine from 2010, and into its own stand-alone composition. It is about waiting for and capturing that moment when restlessness and insomnia break off into the first stage of sleep when thoughts go from linear to non-linear to losing all gravity, trailing off into fragments and forms wandering in and out of coherency. The majority of people experience dreams in either black-and-white or in monochrome.
This piece is especially meant to be experienced as a video installation with Billie standing in between the projector and the screen thus being a part of it. It should be shown as monstrously big as possible dwarfing and engulfing Billie's presence because the subconscious and unconscious universe is infinitely bigger than our waking one, yet all the same pixels and parts dance across her face and body with ghost-like motion.